Larain Matheson

<!- ------------------ top table --------------------->

<!- ------------------ content --------------------->
Drum Rocks, watercolor and chalks

Larain is a multi-media artist who works in photography, acrylic, watercolor, pastel and jewelry design.

Larain draws her inspiration from nature: rocks, landscapes, skies, ocean, and then abstracts them with mixed-media to become a new space and form. She was an art educator for many years and received her MFA from UCLA in 1972.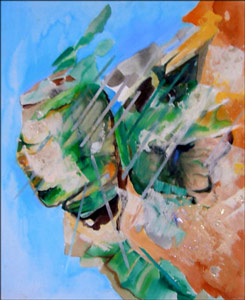 Chrysallis, mixed media
She was fortunate to study with her favorite painter then, Richard Diebenkorn, whose work spans decades as an internationally well-known figurative and abstract landscape painter from California.

Her paintings were always large, mural like canvases which were exhibited in museums in southern California. She has exhibited at shows, and at Cirrus Gallery and Artisans Gallery in Mill Valley. Her work is in private collections in the U.S.
Now, her love of paper has produced smaller works with the same awareness of space, color and light that each new place shows her through travels. She has painted in Mexico, Central America and the Southwest, which has been influential in opening new visions for her. Her involvement with indigenous native elders for the past 30 years has brought a deep appreciation of the land and the elements.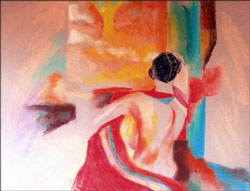 Hopi Woman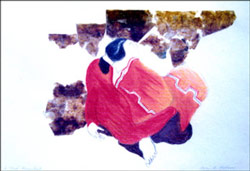 A Time Remembered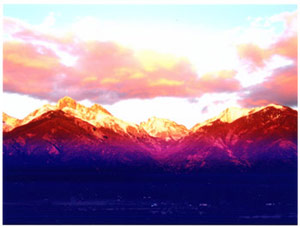 Photo - Sangre de Cristo Mountains




She is consciously "guided" by the shapes that emerge and feels that as an artist it's important to let the painting have it's own life force.

Just as in painting, her landscape photography reflects her passion for light for that magical moment where one is privileged to "see" beyond the ordinary. She is always open to the people and forms in architecture around her and feels it"s important to show the connections in life through the artist's language of line, color and shapes.






<!- ------------------ /content --------------------->
---
<!- ------------------ address ---------------------> <!- ------------------ footer --------------------->
---