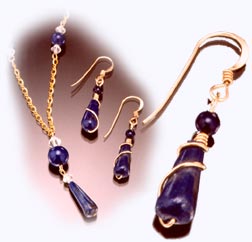 Lapis / Crystal (earring enlarged to show detail)

Yvonne has been making jewelry since 1991. Working with chain, wire and semi-precious stones she creates necklaces, earrings, bracelets, anklets and pendants. Lapis, Tanzanite, Malachite, Turquoise, Rose Quartz, Agates, Jaspers are just a few of the stones she uses. The bead accents are Sterling silver, Gold Filled, 14K yellow and 14K rose gold. Genuine Swarovski Crystals are used with different cuts of stones to create a different design.

The healing properties of semi-precious stones is the focal point of her jewelry. The Medicine Bag Necklace comes from her Native American ancestry where she uses stone animal fetishes and metal accents in her design. She lets the type of stone and its cut determine the style, from Native American to Victorian.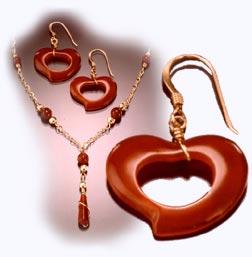 Carnelian (earring enlarged to show detail)

Yvonne uses a myriad of tools, processes and materials to create many one-of-a-kind pieces. Traditional jewelry tools such as hammers, jewelers saw, files, soldering torch and a Flexshaft are used to create, redesign, update and repair jewelry.

Her studies at the Mendocino Art Center included Stone Sandwich, Primal Tech Rock Art, Soldering Solutions and Jewelry Fundamentals.

Yvonne also creates earrings and pendants using Pierced silver and rose gold; Reticulated silver, lace imprinted on thin silver and 14K gold sheet. She also makes toe rings out of 14K yellow and rose gold and patterned silver ring stock. Rose gold is her favorite colored gold.
Malachite (earring enlarged to show detail)

Yvonne is a member of the North Coast Artist's Guild, Gualala Arts and Mendocino Art Center. She has participated in the Studio Discovery Tour, Summer Saturday Art Fests, Thanksgiving Art Fest, Art in the Redwoods and Art in the Gardens the last 4 years. She participated in the King's Mountain Art Fair in 1997.

Some of her earring designs are available at Lindsay Art Glass in Benicia, California and The Cotton Field in Gualala, California. For her current art festival schedule and other designs, visit her website at