Many people are familiar with the woodblock prints of Japan and the Northern European renaissance. A picture or design was first drawn on wood and then the negative space cut away using sharp hand tools. The result was a wood block into which ink was rolled.A piece of paper is then applied to the block and rubbed. The design on the block transfers onto the paper, giving the artist a mirror image of the original art.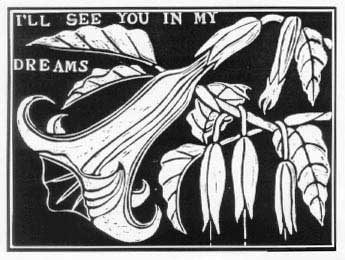 Peach Datura (9" x 12")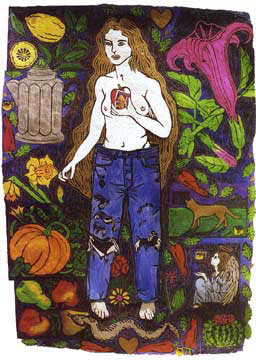 Eve As Marilyn, clothed (23" x 32")

Gualala artist Wendy Bailey utilizes these same ancient, time-consuming techniques to make her wood block prints. However, she goes on to contemporize her work with the addition of bright color gouache, watercolor, and colored pencil.

Her larger allegorical pieces have been shown across the country, and she has won many local and national awards. Her smaller botanical pieces, both in black-and-white and color, are in demand as published illustrations. Ms. Bailey attended California Lutheran University in Thousand Oaks, and received her B.A. in Fine Arts from Cal-State Hayward, where she studied under Mel Ramos and Raymond Saunders. Before moving to the Mendocino coast in 1989, she worked for several years as a graphic artist in the San Francisco Bay Area.

Her artwork has been included in exhibits at the Oakland Museum, The Oakland Center for Visual Arts, The San Francisco Woman Artists' Gallery, Matrix Gallery (Sacramento), Galleria Mesa (Arizona), and Impact Gallery (New York). It was part of a group show that toured across the Midwest for two years. In addition, Ms. Bailey's work has been in a one-person show at the Mendocino County Museum.