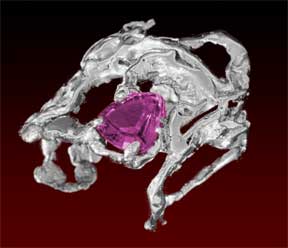 Sterling Silver Bracelet With 45 carat Amethyst

I was born in San Francisco but transplanted to Ohio in the early 1950's. My father, Bill, was an architect and my mother, Shirley, a painter so I came by my talent naturally. I am a self-taught gold/silversmith, in which I used these talents in my retail jewelry store for the last 30 years. My "roots' have always been calling me back to the north coast of California for many years and thus, I have returned to the California coast in order to create and design works of art in jewelry and precious metal sculptures. My wife, Susan, and I currently reside in Irish Beach.

I often design the majority of my jewelry with a general creation in mind. However, as I am creating a piece, my surroundings, the metals and stones with which I am working, influence me to the end result. If designing for an individual, then this also will play a role in the creation that takes place. This same concept is used in the carving of my wax design, as they just seem to flow from the wax, I see something in my mind and cut every thing else away. I work with all types of stones, be it a natural specimen, faceted stones, or the variety of cabochons.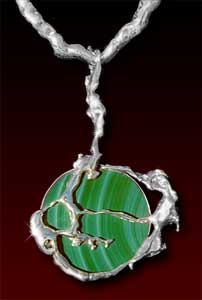 Sterling Silver Pendant

With 50 mm Round Malachite Stone

I believe jewelry should be an attribute to the human body as a painting is to a room or a sculpture is to that special place in a home, building, or yard. My works of art in jewelry or treasured precious metal sculptures are for the discerning in taste.

For the past thirty years I have been primarily designing commissioned pieces and custom work for individuals and, of course, a great deal of repair work, especially as a silversmith. There seems to be a lot of jewelers where I used to live that could "sell" silver jewelry but not silversmiths who could repair the jewelry once it was sold! Also, over the years I have performed restorations on antique flatware and jewelry for many antique dealers throughout Ohio.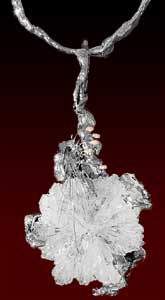 Sterling Silver Pendant
With Amethyst Counch Crystal Button
and Cape Amethyst Beads with Fresh Pearls
Currently, I am a GIA Associate member, a member of the Gualala Arts Center, the Gualala Arts North Coast Artists' Guild, and a member of the Mendocino Arts Center.
Featured on the television program, Cleveland PM Magazine, for designer jewelry. Articles appeared in the North Coast Magazine, Crane's Business Magazine, and local Akron papers. In the past five years, I participated as a judge in three dimensional art and jewelry at the Hardesty Park Art show in Akron, Ohio. I have taken numerous GIA courses over the years in order to increase my knowledge in the jewelry trade.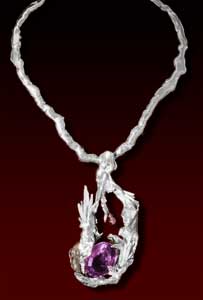 Steling Silver Pendant
With 40 carat Amethyst and Kyanite Shards









For more of Walt Rush's jewelry visit his web site at: http://www.rushstudio.com