Tony Green
Ceramic Sculpture
<!- ------------------ top table --------------------->

<!- ------------------ content --------------------->


Commenting on the world around him, Tony uses the tools of ceramics to create unique works of art. Self taught for the most part, Tony has studied ceramics at the Montpelier Cultural Arts Center, Maryland; Brandybuck Ranch, Point Arena, California; and at the Mendocino Arts Center in California.

Tony has been inspired by the work of three ceramists, Hungarian Margit Kovacs, American Beatrice Wood, and Native American Roxanne Swentzell. Margit Kovacs was known for decorative sculptures that were totally or partially thrown on the pottery wheel. Beatrice Wood was known for her beautiful luster glazes and many humorous works. Roxanne Swentzell is known for her highly expressive human Native American figures.

Most of Tony's sculptures are partially thrown on the pottery wheel in the manner of Margit Kovacs. The whimsical and expressive nature of some of his sculptures reflect the inspiration of Beatrice Wood and Roxanne Swentzell.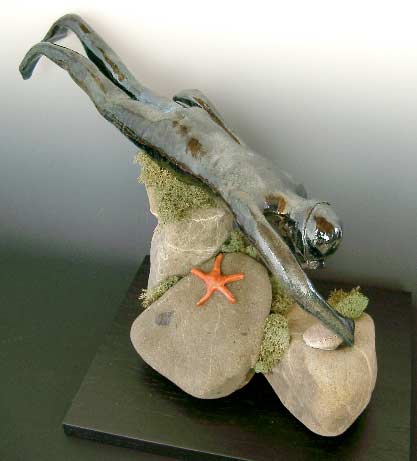 Title: The Diver
Method: Wheel thrown, built and raku fired. The stones were found in the Gualala River. The diver, stones, starfish and abalone were all joined and then reindeer moss was added to simulate seaweed.
Dimensions: 11 1/2" high x 22" wide x 12 3/4" deep.
Sold.
Title: Fiddler Crab

Method: Wheel thrown, built and raku fired.

Dimensions: 5" high x 13 1/2" wide x 13" deep.

Sold.

Title: Dancing Dolphins

Method: Sculptured slab and raku fired. Cut copper wave.

Dimensions: 2¹ high x 2¹ wide x 3" deep.

Sold.

Title: Kiss Me!

Method: Wheel thrown, built and fired.

Dimensions: 5 1/2" high x 5 1/2" wide x 6 1/2" deep.

Sold.

Title: Ruffled Feathers

Method: Wheel thrown, built and raku fired.

Dimensions: 14" high x 8 1/2" wide x 6" deep.

$250
<!- ------------------ /content --------------------->
---
<!- ------------------ address --------------------->
<!- ------------------ footer --------------------->
---