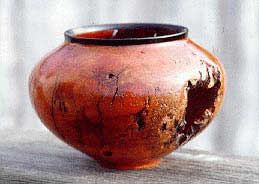 Woodturning in manzanita and ebony

on display in the Fitchburg Museum

Roy Austin is a professional, artistic woodturner who specializes in bowls, urns, platters, and candelabras turned from natural sources of wood such as tree cuttings, burls, stumps, and driftwood. He retired early from a 35-year career in engineering research and development, project management, and teaching, and has now become a noted artistic woodturner. He has received numerous prizes at juried shows, is a member of the American Association of Woodturners (AAW), has displayed his work in the biannual Artistry in Wood show at the Sonoma County museum, and has had one of his pieces in the AAW 1996 national show of some of the top woodturnings. He resides at The Sea Ranch on the Northern coast of California where his work is available in several galleries.
Roy Austin Describes His Work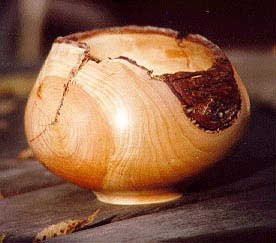 Woodturning in cypress 9" in diameter by 7" high
I prefer to work with wood from natural sources -- not from commercial suppliers. Consequently, the natural defects (normally eliminated by milling, kiln drying, and grading) such as checks, knots, and swirls are incorporated in the final pieces and are part of their inherent charm and style. I start with a rough burl or tree crotch, gaze at it awhile to sense the inherent shape, and then work to release that form. I normally let the wood dictate, and in so doing I consider myself as merely the messenger releasing Mother Nature's art. In this way, I strive to combine nature's charm with the artistry of profile and shape selected for each piece. Consequently, each of my turnings is unique and never repeated -- each is a "Number 1." When working with commercially obtained blocks of exotic hardwoods, I take a more dominant approach. I apply my own preselected profile and proportion, and strive to produce the finish and form to be consistent with the grain pattern and perfection of the source.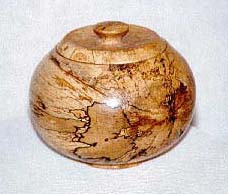 Bowl and lid turned from spalted oak

Because of my past technical work and love of mathematics, I am exploring how it can be used to analytically generate bowl profiles which have that special appeal and proportion. I am developing a catalogue of profiles which incorporate that elegant "Divine Proportion" developed by the Greeks, and which is widely used in sculpture and architecture. Currently, I am working on a book entitled The Mathematics of Profile and Proportion in which the mathematics of analytical geometry and the calculus are used to generate profiles from the conic sections, transcendental and polar functions, and for derivation of naturally occurring shapes. It is not implied that art should or can be dictated by technical formalism. However, it can provide a beautiful framework for discretionary use by the artist to deviate as desired. This is analogous to the artistry of ballet in which the artist works within the framework of music, in contrast to freestyle expression. Neither is advocated as the "right" or "wrong" approach to artistic turning. However, at the least, the process is stimulating, and can open perspectives on the relationships between mathematics and beauty.