Robert Innes
Copper Lamps
Born in South Africa, Robert Innes in his teen years developed an interest in metals and machining. Robert's degrees in Mathematics, Physics and Astronomy from The University of California in Berkeley led him to scientific arenas most of his career. However, he never gave up his love of machining and pursued his interest as time allowed.

Table Lamp
For many years Robert and his wife Mona renovated and restored homes in Berkeley, California. Robert received the Berkeley Architectural Heritage Award for restoration in 1986. During this twenty year period he was sometimes able to use his machining skills in his restoration work. In 1996 Robert designed and produced his first set of copper, light fixtures. The fixtures were used in an eclectic, Tuscan country style kitchen creating a delightful and brilliant effect.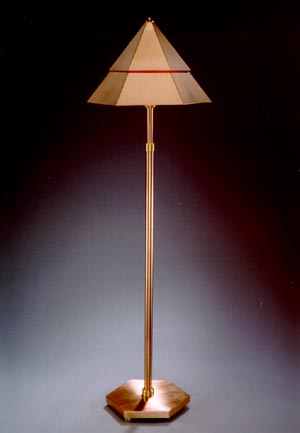 Floor Lamp (Lamp telescopes from 4 feet to 6 feet)
In the past few years Robert has turned to custom designing copper, indoor and outdoor lighting for Designers, Architects, and Landscape Architects. In addition to these wired fixtures, he is adding to his current collection of delightful, free standing, copper table and floor lamps.
---
---