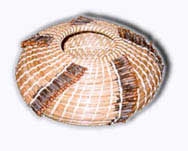 Growing up in Santa Rosa, Pam Zimmerman was surrounded by the beautiful, abundant Sonoma County plant and animal life. The creek near her home supplied her with endless hours of play and connection to the many creatures living there.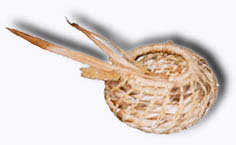 As an adult, living in Santa Barbara, she was introduced to basketry and began her career as a basket weaver. This endeavor allowed her to spend many peaceful and fulfilling hours outside collecting materials and connecting with her new environment.


Pam's style of coiled baskets is reminiscent of the baskets made by the Tohono O'odham Indians of Arizona. She most often uses pine needles from the Ponderosa or Gray Pine for her warp, and raffia (a natural fiber of a palm tree from Madagascar) for the weft. Sometimes, though, she uses dried leaves from the Iris plant or Watsonia, for the warp.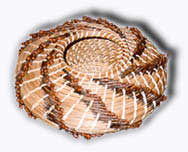 Pam's relationship to her baskets is one of awe and delight. She claims each basket creates itself and is a surprise upon completion.
The smallest baskets are approximately 1-1/2" tall by 3" in diameter. The largest baskets are approximately 3" tall by 8" in diameter. Prices range from $100 to $200 each.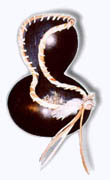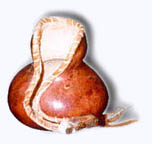 Recently, Pam has begun to wave onto gourds, using Iris leaves, Watsonia leaves, or pine needles.