<!- ptunn of PacificWoodsStudio for Art.MCN.org -> <!- --- header -----!>

<!- --- /header -----!> <!- --- content-----!>

Kathy Edelbrock
<!- -- image --->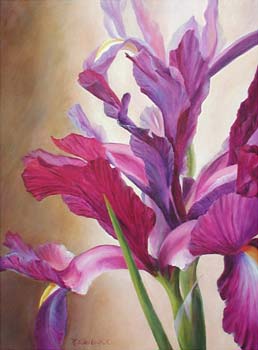 Chinese Iris

<!- -- /image --->



I began painting in 1975, as a means of relaxation from raising six active children. I started originally with paint by numbers pictures. My dear friend gave me an old set of oils that she never used and I was off and running.

I took a class through the YWCA, several lessons at the Yelland Art Gallery in Orange, CA and later studied oils for two years with Marge Yaros. Marge taught an old masters technique, with a few twists of her own.
<!- -- image --->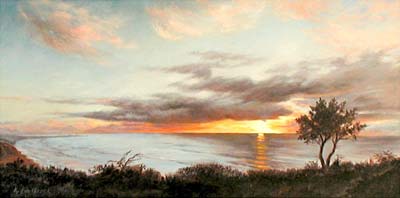 Storm has Passed

<!- -- /image --->

I won the first place award in my first show at the Yaros Gallery, in the beginners category and as I gained experience I won several first place awards in intermediate, advanced and won "The Best of Color" award in the last show before moving to the North Coast.
<!- -- image --->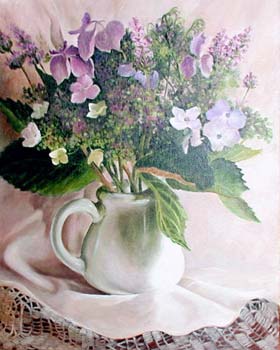 Hydrangea in White Pitcher

<!- -- /image --->




I continued my art education with local artists, Kaye Like and Judith Greenleaf, and have taken workshops from local artists, Bill Martin, Dwight Eberly and Nancy Collins, and lately, taking a class, 'Painting The Figure In Oils' through the College of the Redwoods with artist, teacher, Ken Sikora. I credit the use of art books also as great learning tools.
<!- -- image --->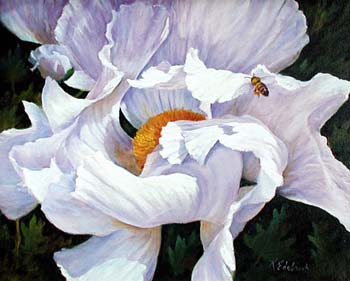 Matijilla Poppie with Bee

<!- -- /image --->



I am currently a member of The North Coast Artists Guild and Gualala Arts. My paintings hang in collections on the North Coast, Southern California, Arizona, England and Germany.

Prentice Gallery in Ft. Bragg carries my work and I have prints at the Pt. Arena Lighthouse. The Dolphin in Gualala and DuPonts Mercantile in Pt. Arena.
<!- -- image --->
Cambria Stream

<!- -- /image --->


I enjoy painting the local scenery, the Pt. Arena Lighthouse, flowers from my garden, and portraits of my friends and relatives family pets. With great success I might add.

With so much that is unpleasant in the world today, I hope that my art will bring a little beauty and pleasure into the lives of those who need a bit of relief from the stress of life. I also hope that it reminds people of all the beauty God has provided for us if we just open our eyes and take the time to look. It's everywhere.
<!- --- artist contact -----!>
---
<!- --- /artist contact -----!> <!- --- /content-----!> <!- --- footer-----!>
---