Duane Gordon
Watercolor With Pen and Ink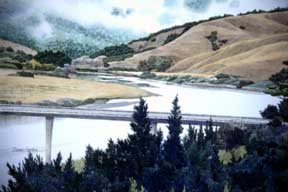 Russian River Bend
Watercolor with pen and ink
The artist describes his work . . .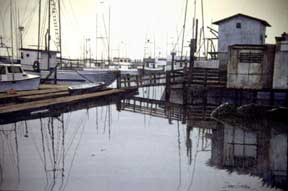 Blue Harbor

Watercolor with pen and ink

For the past twenty years I have lived and worked on the beautiful northern California coast. As a painter, I find the combination of ocean and beaches, redwood forests, farms and vineyards, and lovely old buildings to be a landscape painter's dream. The shifts in light from hour to hour; day to day, and season to season give me endless inspiration.

My medium is a combination of transparent watercolors and pen and ink. I like the clear, clean color of the paint combined with the crisp drawing quality of the ink, which can give such a variety of textures. I use this combination to give my work a unique identity.

I can view the sea from the front windows of my home and can reach out and touch the redwoods of the forest from my porch.

To be able to live and work in this remarkable environment makes me feel truly blessed.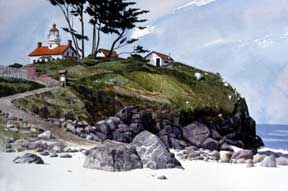 Crescent City, Low Tide
Watercolor with pen and ink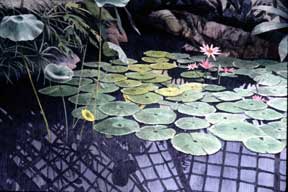 Lily Pond
Watercolor with pen and ink
---
Duane Gordon
P.O. Box 196
The Sea Ranch, CA 95497
dkgordon@mcn.org
Represented on the Mendocino coast by
Henley's Art & Interiors, Gualala, California
---