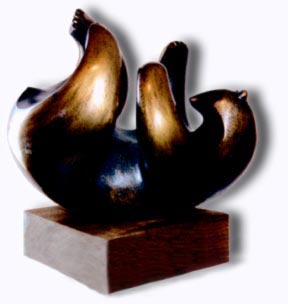 Tumbling Bear ( Bronze)


Douglas Purdy has been designing bronze sculpture for thirty years. He enjoys recreating what he sees in nature. His interpretations of birds and animals are innovative and contemporary but at the same time emit a classical quality due to the fine textures he chooses to complete his pieces. He makes all of his own moulds and meticulously hand-finishes his own sculptures. His exciting patinas, which he has developed over the years, add contrast and depth

Douglas Purdy was born in 1940. The offspring of two artists, Douglas has devoted most of his life to sculpture, working in every media of metal. He grew up in the Los Altos Hills, Ca. area and started designing in his parent's studio while still in grade school. He worked diligently under the tutelage of his parents, perfecting his designs and learning the art of mould making. His mother Carol, was a prominent ceramic designer at that time, selling her work nationally. His father, William, was a professional mould maker whose specialty was complex moulds of many parts, which he made for people all over the United States. After high school, he studied jewelry under an old European craftsman where he learned the art of "chasing," which he often uses in the hand-chisel work on his sculptures.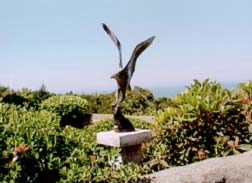 Redtail (Outdoor Bronze)

He has exhibited professionally for over forty years. He had a successful Gallery in Camel, California, for eighteen years, where his sculptures were purchased by collectors from all over the United States and overseas. He is a past member of the Carmel Art Association, where he met many of the artists he is associated with today.

Two of his pedestal sculptures, "Equus" and "Flight," are in the permanent collection of the Monterey Museum of Art. One of his heroic-size sculptures, "Orca," was chosen for permanent exhibit at the Monterey Convention Center, the unveiling of which occurred September 8, 1984. Many corporations have acquired his sculptures, including the main office of the Bank of America in San Francisco.


In the last ten years, besides his Indoor Pedestal Sculptures, he has added Outdoor Bronze Sculptures to his repertoire. While these are considerably larger, they are not heroic size and can therefore be used in landscape settings.

For more of Douglas Purdy's work, visit his web site.

Wave (Outdoor Bronze)