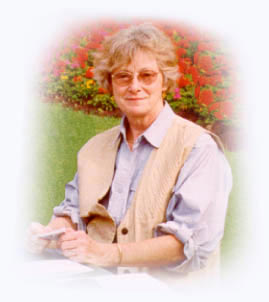 Cynthia Snowden is the author of Going to Barsetshire, a companion to the Barsetshire novels of Angela Thirkell. Each of the twenty-nine novels in the Barsetshire series is like one tile in a complex mosaic. Cynthia Snowden's book provides a dictionary, an encyclopedia, and a guide to these memorable books.
Cynthia Snowden comes from a long line of Anglophiles, a family of readers, and one which throws up, so to speak, the occasional writer. It thus came to pass that eventually she read C. P. Snow's Strangers and Brothers series which, by a long rambling process, led to the creation of Going to Barsetshire.
While reading Snow's twelve-novel series in 1982, she realized that although she was ostensibly reading English, she understood far less than she ought to. There and then she began a concentrated study of British culture and language. In the process, she read British authors almost to the exclusion of all else.
It is Thirkell's Barsetshire series that has engaged Ms. Snowden's attention and imagination for the past five years. Retired from a career in educating others, she has had time to devote to educating herself, to resurrecting an essential element of the British cultural world six thousand miles distant and sixty years ago, and in so doing, making Barsetshire a delightful and comprehensible place for all to visit.
Cynthia Snowden lives with her husband and editor, Jim Rogers, at The Sea Ranch in northern California. She feels extraordinarily lucky to be alive at such a time, and in such a place, where the beauty of the natural landscape is in piquant juxtaposition to Going to Barsetshire as a part of her mental landscape.
Read more about the author and her delightful book at htttp://www.mcn.org/l/thirkell
© 2000 Cynthia Snowden