Born in Berkeley, Beva Pilling Farmer has lived most of her years in Monterey and Sonoma Counties where she has practiced and taught her art. She has worked in wood, metal, clay, textiles, painting, calligraphy, serigraphy, bookbinding, and letterpress printing. Now she does only gouache painting.

Beva Farmer has taught children, high school students, adults, and seniors. She has published a calligraphy text and several exhibitions and awards. Her work is in Gualala Arts' Dolphin Gallery and in the gallery of the Carmel Art Association.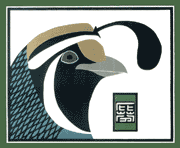 California Quail

Beva's inspirations have been sea and land, bird, animal and plant life forms, Native American art, Biblical icons and spiritual themes. As a graphic artist, she attempts to simplify to its essence all that she paints.

Her studio is located in a tower of her home, nestled in the redwood forest at The Sea Ranch, California.





The Sun and the Moon

Looking at Each Other

Nights and Days

Three Boys with the Angel of the Lord