Ann Berger
Clay Sculptures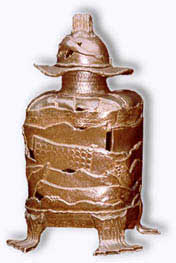 Katmandu (21" H x 10" W)

Ann Berger, who lives and works at The Sea Ranch, California, is constantly surrounded by the natural world. She takes her artistic cues from organic shapes but calls her creations non-realistic, whimsical impressions.

Ann hand builds exuberant, lively pieces of wildly varying textures. Each component of a work is painstakingly put together piece by piece... "There will never be another like it; each is an original". Coil-by-coil and small shape-by-s shape are added, bit by bit, each to the other, until the creation completes itself. Construction of each piece is simultaneous with the design process.

Ann's artistic training began with jewelry design and fabrication, and moved into lost-wax casting. She took classes and worked at San Jose State University in jewelry and sculpting to perfect skills and enrich design concepts. Ceramics was a natural leap into another "tactile" art.
Ruby Mariner (13" H x 17" L 10" W)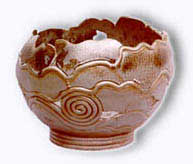 Shades of Night (13" H x 15" W)
Ann is a member of Gualala Arts and has served as their Dolphin Gallery Coordinator in Gualala. She is also a member of the Mendocino Art Center, and the Fort Bragg Center for the Arts.
For more of Ann Berger's work, visit her web site.
---
Ann Berger
Sea Bluff Studio
P. O. Box 1150
Gualala, CA 95445-1150
Phone (707) 785 2044
Fax (707) 785 2248

Please call for a studio tour
---